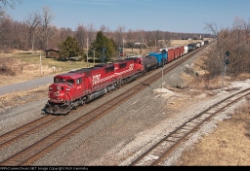 Welcome to the RRPictureArchives.NET contributor site of Rich Kaminsky.



I have long been a flight simulator fan, but not long ago I (re)discovered Microsoft Train Simulator. One thing led to another, and one sunny day in March of 2006 I found myself standing on a grassy strip of land along Depot Street in Berea, Ohio trackside at CP194 with digital camera in hand, eagerly anticipating the next photo opportunity. Here the Norfolk Southern and the CSX tracks run side by side for a bit which makes for a steady flow of railroad action.

Just a couple of miles west of CP194 sits another of my favorite spots, which is the old Olmsted Falls Depot located onthe present day Norfolk Southern line. The quaint old building is now occupied by a model railroad club, and a vintage Pennsylvania Railroad Caboose is also displayed there. This is an excellent spot to get up close and personal to the Norfolk Southern Chicago Line traffic

Recently I have begun spending some time railfanning a portion of the CSX New Castle Sub. I find the area around this ex B&O line quite relaxing, with many farms and plenty of ancient bridges over the tracks to shoot pix from.

I have met some very nice folks while railfanning, made a couple good friends along the way, and as I expand my horizons and venture to new places to photograph trains I am sure I will meet some more! Maybe the next railfan I meet will be you!

I appreciate you taking the time to view my humble photographic efforts!



You may browse my collection of pictures via the menu located on the left hand side of the page. I hope you enjoy the collection and thanks for stopping by!